Here's Queen's set list from Wednesday night
Queen + Adam Lambert opened their 2019 concert tour on Wednesday night at the Rogers Arena in Vancouver, BC. Stuart Derdeyn of the Vancouver Sun wrote in his review: "From the rising gold crown that framed the stage to the gilded opera box seat some super VIP folks were enjoying the show from, this was a far more lavish production than the last go-around."
Here is the complete set list:
Now I'm Here
Seven Seas of Rhye
Keep Yourself Alive
Hammer to Fall
Killer Queen
Don't Stop Me Now
In the Lap of Gods ... Revisited
Somebody to Love
The Show Must Go On
I'm in Love with My Car
Bicycle Race
Fat Bottomed Girls
One Vision
Machines (or 'Back to Humans')
Radio GaGa
Love of My Life
'39
Doing All Right
Crazy Little Thing Called Love
Under Pressure
I Want to Break Free
You Took My Breath Away
Last Horizon
(Guitar Solo)
Tie Your Mother Down
Dragon Attack
Another One Bites the Dust
I Want it All
Bohemian Rhapsody
Encore:
Ay-Oh (Freddie appears on screen
We Will Rock You
We Are the Champions
God Save the Queen
Heroes (David Bowie cover)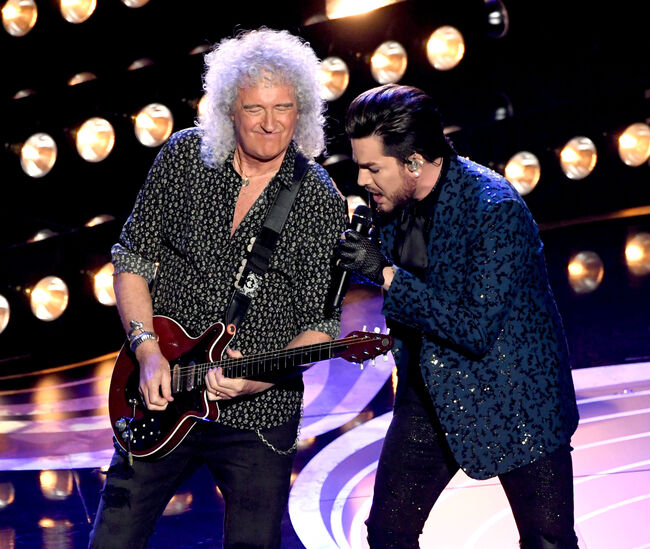 Brian May and Adam Lambert perform at the Academy Award Ceremony on February 24, 2019. Photo by Kevin Winter / Getty Images

Gary Cee
Want to know more about Gary Cee? Get their official bio, social pages & articles on 103.7 NNJ!
Read more