Steve Vai Wants AC/DC Album With Axl Rose Because AC/DC Is "Perfect"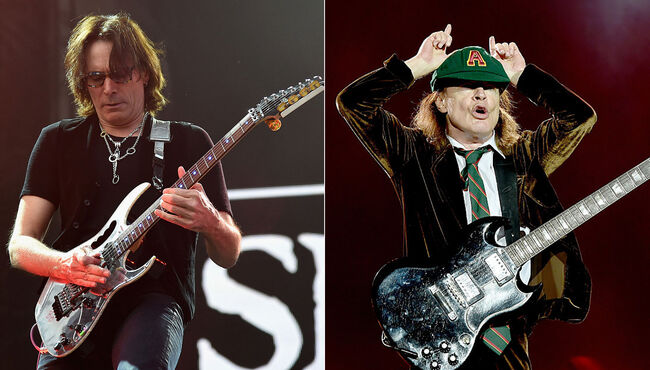 Steve Vai has no problem with rumors of AC/DC planning to record a new album with Axl Rose on lead vocals.
In fact, Vai hopes the rumors are true, he says, because Angus Young and AC/DC have never steered him wrong before.
"I think that'd be fantastic," Vai said of the idea of a new AC/DC album in a recent interview with BlairingOutShow on YouTube. "Don't you? I mean, AC/DC can't make any mistakes; they're perfect. (Laughs) And Axl is one of the quintessential frontmen, and he's also an incredible singer."
Vai continued, saying he's heard from Guns N' Roses' Appetite for Destruction-era producer Mike Clink that Rose was a dream to work with in the studio.
"He said Axl would just come in and nail it first take," Vai said. "There's so much connectedness in the way he sings, I think that'd be fantastic."
AC/DC's sole remaining founding member, Young, is reportedly determined to continue the band with Guns N' Roses frontman Rose.
Vai in the past hasn't been scared of taking an unpopular stance. In September, he confirmed he would be part of a band performing with a Frank Zappa hologram that's in production.
Vai wrote in a Facebook post that he understood the pushback against the hologram movement—which has attempted to resurrect performances of artists like Michael Jackson, Tupac and Ronnie James Dio among others—but Vai says he's intrigued by the technology and believes it could be a positive experience.
Photo: Getty Images